PRESS RELEASE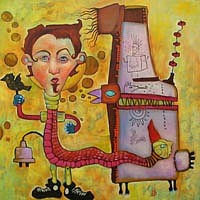 June 9, 2006 - July 8, 2006
Opening Reception: Friday, June 9 from 5-8 pm.
Born into to a military family in Breckenridge, Minnesota in 1974, Dara Harvey grew up in many different cities in the US and abroad. This vast exposure helped foster her vivid imagination and artistic talent. Dara graduated with honors and received her BA in Fine Arts from Washington State University in 2004. She paints full time and instructs drawing and painting classes at the Spokane Art School. She is most influenced by the works of T.L. Solein, Odd Nerdrum, Joan Miro and Hieronymus Bosch. Since 1997 Dara has exhibited her whimsical oil paintings and soft sculptures in WA., ID., MT., and CO.
Artist Statement: "In a pursuit to convey personal images, I have always dealt with the figure in narrative as a collage of images in some form or another. I see my work as a continuing process of change and experimentation in keeping with meaning and narrative. I find it enticing to see how the figure can be depicted. Gradually, my work has developed into my present style of anthropomorphism. By using either real or imaginary things, it's the "piecing together" of humans with animals, food, machinery and other random objects, that I find most enjoyable to work with. My ideas are very random and impulsive. Often times the ideas chosen are based on any given response, especially if the work makes me laugh. The characters reflect upon my imagination in terms of personal experiences and observations. They are deliberate, whimsical and often disturbing, yet exciting.
All of my paintings begin with a drawing. I work directly, slowly building up layers of compact paint and glazes to define my characters in a system of meaningful blobs of color and negative space. Each piece is executed differently and some elements from one painting may be transferred to another.
As an emerging artist, I like to think of myself as a goddess in my own little world of systems, creating beautiful paintings filled with color while filling a space with strange little beings who have a story to tell."