PRESS RELEASE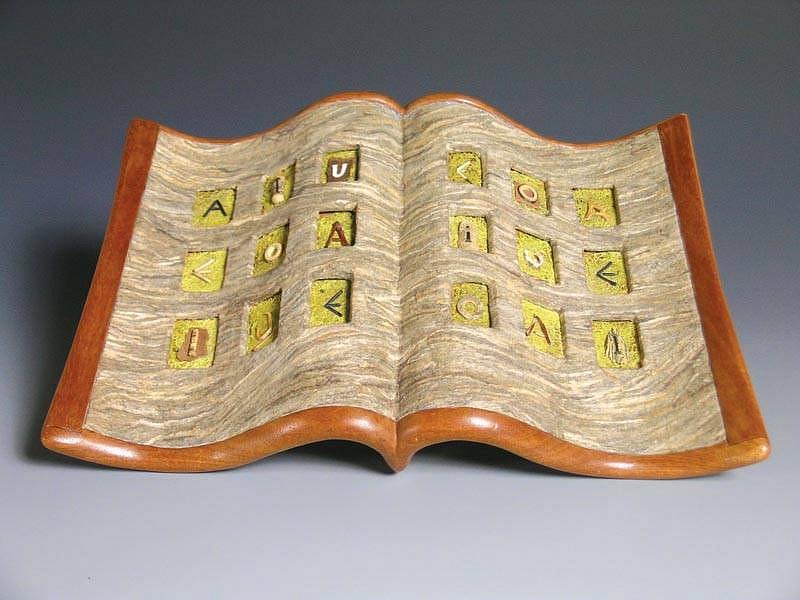 July 13, 2007 - August 4, 2007
Opening Reception and downtown ArtWalk: Friday, July 13 from 5-8 pm


Exhibition Statement
"I am grateful for the opportunity to share this body of work as I continue my ongoing fascination with the development of languages, the book form, marks and symbols as sounds and picture concepts. A few earlier sculptures are included as they are, to me, informative transitions into my work with the book and with the investigation of pages and fragments of ancient text. My language is that of the visual arts, of line, shape, color, texture and form. I also have a great respect for good materials well-crafted. I hope that is evident and can be observed and enjoyed. "
About the Book Forms
"This series of work is an investigation of the "book" as a sculptural metaphor.
Having taught visual arts at the college level for thirty-two years, I have a great love and respect for books as embodiments and conveyors of ideas, stories, information and other potentials. I also enjoy their tactile qualities of texture, weight, and substance.
The concept of these books is outside of the traditional and expected and, therefore, they must be read differently.
The suggestion is that certain meanings are beyond words and can only be conveyed via the visual and tactile elements that are the language of the visual arts. The viewers must extend frames of reference and respond to substance and nuance.
Often found objects appear, most of them from the natural environment which has always informed, amazed and inspired me with its great mysteries and beautiful solutions to problems of form, color, texture, and line. There is occasionally a musical reference as I often hear composition as a way of seeing/feeling my way to it.
The challenge is to approach an open volume as if it was written by the only speaker of an unknown language and, using one's own frame of reference for the cues embedded there, attempt to tell oneself a story.
Enjoy the story and the mystery. " -Morse Clary
Morse received his MFA from the University of Idaho in 1970 and taught art at university level for 3 decades while fostering his own fine art passion. He retired from teaching in 1998 as Professor Emeritus from Columbia Basin College, Pasco, Washington and dedicates his time to making art in his studio.
………………………………………
This month the gallery celebrates its 10th Anniversary in business. We want to thank all of our artists, patrons, sponsors and advocates for their ongoing support!