PRESS RELEASE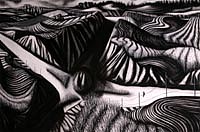 November 9, 2007 - December 1, 2007
Opening Reception: Friday, November 9 from 5-8 pm in conjunction with the Downtown ArtWalk.
This exhibition is sponsored by Greenstone Homes & Neighborhoods. We thank them for their continued generous support of the arts and culture in our region.
EXHIBITION STATEMENT
The landscape of my surroundings is a continuously evolving living and dramatic visual entity. I am enamored with its deeply patterned plowed earth, green wheat, scenic roadways, and idyllic hills. Contrasting light, organic forms, textures and patterns captivate my imagination. The land contains simultaneously feminine and masculine visual elements appearing abundantly fertile.
A specific stretch of road which divides fields of wheat and has a traffic roundabout, which I refer to as "The Circle", provided me with endless inspiration for drawing. I find ambiguity and meaning in this newly constructed intersection. The circle symbol speaks traditionally to the repetitive nature of life. At certain times the roundabout is as busy as Grand Central Station at rush hour. In a seemingly innocent way it forces us to live in harmony as we negotiate the actions of others we intersect. At others times it is an uninhabited place which acts as a visual human exclamation mark on the landscape. Roadways are a metaphor for the choices one makes on the journey of life. Most of us hope that the road we find ourselves on is simply the "right" choice.
Charcoal is a means for me to visually express and create the drama in the environments around me. I can depart from color without sacrificing elements of light, value, shape, texture, and thereby, further exaggerate the subject. Charcoal is technically a dry medium but I find it to be totally fluid as I manipulate it across the surface of my paper. It is also the most illuminating medium as I spend just as much time erasing the image as adding to it.