PRESS RELEASE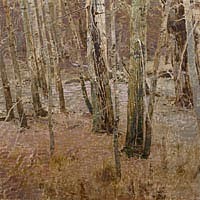 August 15, 2008 - October 4, 2008
The Art Spirit Gallery is proud to host a rare solo exhibition of new work by George Carlson. This new body of work includes a series of oil paintings of the North Idaho landscape, figurative bronze sculpture and conte drawings.
This show is generously sponsored by the Radiologists from Kootenai Outpatient Imaging. We thank them for their continued support of the arts in our region.
"George Carlson has built a remarkable body of work and lasting reputation through his bronze sculpture and pastel painting over the past forty years. This show will be Carlson's first solo show featuring oil paintings. His careful buildup of layer upon layer of oil paint is reminiscent of the way he builds in wax or pastel to reveal a richly textured surface in harmony with nature's rhythm." --Steve Gibbs, owner of The Art Spirit Gallery
Short Biography
A native of Illinois, George Carlson, studied at the American Academy of Art in Chicago, the Art Institute of Chicago and the University of Arizona. He has had solo exhibitions at the Smithsonian Institute's Museum of Natural History, Indianapolis Museum of Fine Art, the Autry National Center, the Southwest Museum in Los Angeles and a major retrospective exhibit at the Denver Art Museum 2007-08.
Internationally, Carlson's work has been featured at the Hakone Open Air Museum, Tokyo, Japan; America Haus, Berlin, Germany; Central House of Artists, Moscow, Russia; Kyoto World Exposition of Historic Cities, Japan; and the Peking Exhibit, Beijing, China.
Frequently commissioned for both private and corporate works, Carlson has created four sculptural portrait busts for actor Bill Cosby. Among his monumental public outdoor sculptures are "The Greeting" at the Colorado School of Mines, Golden Colorado; "I'm The Drum," Colorado Springs Fine Arts Center; "Of One Heart," Outdoor Museum of Art, Englewood Colorado; "The Greeting," Eiteljorg Museum, Indianapolis; "Early Day Miner," Washington Park, Denver; "Hopi Girls," New Mexico Museum of Fine Art, Santa Fe, New Mexico; and "Paul Robeson," Central State University, Wilberforce, Ohio.
The recipient of numerous awards and honors, Carlson received the Idaho Governor's Award of Excellence in the Arts in 1996. The University of Idaho honored him with an honorary Doctorate of Fine Arts Degree. Carlson has been profiled in many books and publications as well as the PBS Film series entitled, "Profiles in American Art." His work is included in some of the most significant public and private collections in America.
George and his wife Pam have lived in the mountains of North Idaho for over 20 years. The Art Spirit Gallery is proud to have represented the work of this internationally renowned artist for the past eight years and we have developed a close friendship.