PRESS RELEASE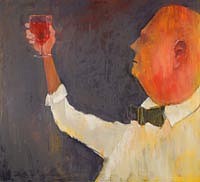 April 10, 2009 - May 2, 2009
The Art Spirit Gallery is proud to celebrate the opening of its 100thshow with "New Work by 12 Regional Artists".
For the past 12 years The Art Spirit Gallery has mounted a new show or original art every month, April through December. The featured artists are given 1-3 years to build a body of work for their show. After each show the walls are stripped, patched and painted in preparation for the next month's featured artist – or group of artists. Please come and help us celebrate this momentous occasion – THE ART SPIRIT GALLERY'S 100th SHOW!!
The opening reception is on Friday, April 10 from 5-8 in conjunction with the 2nd Friday Artwalk in downtown Coeur d'Alene. Everyone is welcome. The show runs from April 10 through May 1.
12 Participating Artists: • Harold Balazs • Victoria Brace • George Carlson
• Gina Freuen • Terry Gieber • Elaine Green • Glenn Grishkoff • Robert Grimes
• Vick Haight • Michael Horswill • Mel McCuddin • Claudia Pettis
This show is sponsored by Clearwater Summit Group, a full service landscape design construction and maintenance company. Visit them on line at www.ClearwaterSummitGroup.com.
Open Tuesday through Saturday from 11-6.
Call (208)765-6006 or visit our website at www.TheArtSpiritGallery.com.
(Please note that our hours will change to 7 days a week again in June.)