PRESS RELEASE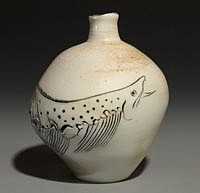 May 8, 2009 - May 30, 2009
The Art Spirit Gallery at 415 Sherman Ave. in downtown Coeur d'Alene is proud to open their 10th Annual Clay Invitational --featuring 17 artists on Friday, May 8th with a reception from 5- 8 in conjunction with the Coeur d'Alene Downtown ArtWalk. This show runs May 9 - May 31.
This invitational will include a wide variety of high caliber ceramic work. The artists are invited based on recommendations from clay artists that we have shown in the past as well as a careful review of artists that have approached our gallery with a desire to show their work in the invitational show.
The 17 participating clay artists are:
-Alex & Sandy Anderson, Bend, OR
-Frank Boyden, Otis, OR
-Eva Funderburgh, Spokane, WA
-Anthony Gaudino, Tacoma, WA
-Roxanne Jackson, Helena, MT
-Ben Krupka, Norfolk,CT
-Marilyn Lysohir, Moscow,ID
-Rick Mahaffey, Tacoma, WA
-Mike Martino, Taku, Japan
-Paddy McNeely, Seattle, WA
-Beverly Saito, Port Townsend, WA
-Steve Sauer, Port Orchard, WA
-Al Tennant, Coupeville,WA
-Ken Turner, Seattle,WA
-Terry Inokuma, Philomath, OR
-Shane Watson, Silverdale, WA
This show is generously sponsored by Quarry Tile Company and Precision H2O.
We applaud Quarry Tile Co. for their great support of the clay arts in our region. They have sponsored our clay invitational for all ten years!