PRESS RELEASE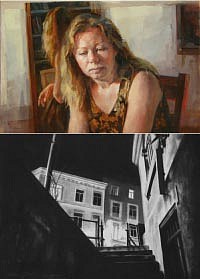 September 10, 2010 - October 2, 2010
The Art Spirit Gallery at 415 Sherman Avenue in downtown Coeur d'Alene will open a show of new work by Victoria Brace and Katherine Nelson on Friday, September 10 with a reception from 5-8 in conjunction with the Coeur d'Alene 2nd Friday Downtown ArtWalk. This show runs September 10 – October 2. Everyone is welcome at this family friendly event!
On Saturday, September 11, Katherine Nelson will give a charcoal demonstration from 1-3:00.
This show is sponsored by 315 Martinis, Tapas and Dinner at The Greenbriar Inn. We thank them for their casual fine dining and support of the arts in our region.
Hours through September: Open 7 days a week from 11-6. Call (208)765-6006.
……………………………………………………………………………………………………
Victoria Brace
Exhibition Statement:
"I don't try to limit myself to a particular subject in painting. To me, it's all about light, shadows, shapes and color - and hopefully, they will convey a certain feeling/story when a painting is finished, the feeling that has inspired me to start it.
My painting process is rather slow. I do have a very clear idea in my mind of what the finished work should look like, but I don't have enough patience to work in a proven traditional method – detailed sketch, drawing, under painting, glazes… I need to be able to improvise at any stage of the process, and I tend to work on the entire canvas, so it's more like layers upon layers of alla prima painting, where shapes keep shifting and re-adjusting and colors may change dramatically, until I hit the right note. Each of these layers takes me closer to the final result, and when I get enough of the "right notes", the painting starts suggesting to me what to do, and then it basically creates itself. At this point, I have to put aside all my references (or disassemble a still life setup) and just see what the painting needs.
For most of my figurative works, I don't have models, unless it's a self portrait, so the characters are purely fictional. I see them in my mind, and I try to make them real – it's fun and frustrating at the same time. I want them to be believable, I want them to have personalities, and I want to know about their lives, I want to know what they are thinking…
With the cityscapes, it's a bit different. Sometimes I see a place, and it inspires me. And sometimes I have a preconceived idea, and then I go look for a suitable reference in the downtown. But the painting process is a lot like with the figurative works, as I don't paint on location, and my photographs are so bad, that they can only work as factual references, but not for "look and feel". So again, it's re- constructing reality, layers after layers, until I get it to the point when it looks the way I want it to look. Quite often, I have to go back to the place several times, take notes, and see it at different angles, in different lighting situations.
In a way, I try to treat my cityscapes as portraits of Spokane. I do believe cities have personalities, distinctive mood, structure, and rhythm. People build towns, they plan them, have a vision, shape them and rebuild... but after a long period of time, a place develops its own character; there are enough layers of history, events, different aesthetics accumulated, so a city becomes similar to a living organism. This is the reason why I usually don't have people in cityscapes, as I don't want to reduce what I intend to be a portrait of the city - to a street scene, a snapshot of a moment." --Victoria Brace
…………………………………………………………………………………………………..
Katherine Nelson
Exhibition Statement:
"Nightfall descended like a black velvet curtain which cloaked my world in mystery. I spent my last few months in Europe exploring silent streets and landscapes of suburbia. The darkness resonated with the unknown around each corner. I selectively sought compositions containing my own individual visual definition of the film noir genre in a singular still frame format. I avoided humans in my images only desiring to leave evidence of their past presence. Graffitti, soot stained stairwells, empty cars, rural roads illuminated by man made light took me away from my daylight in which I am comfortably familiar. Eliminating sunlight as a source I discovered street lamps, spot lights, lit windows, and the soft moon as sources to illuminate the nocturne. Drawing night on white paper is a building process which requires isolation of the whites to remain untouched by blackness. I enjoyed this much like a challenging game working with soft rather than hard erasers to build nuances of illumination within the imagery.
Light in these abandoned places is a metaphor for hope in our lonely hours of darkness. I experienced many of these compositions as though I myself was the hidden observer waiting for something to occur to shatter the silence. Lonely yet romantic, familiar and strange, nostalgic and figurative, foreboding and yet oddly comforting, the nocturne drew me out into a new light." –Katherine Nelson
…………………………………………………………………………………………………..
Please visit the Victoria Brace and Katherine Nelson's artist pages on this website to see all of their artworks in the gallery including previous works that are not shown on this exhibition page and the artist's resumes.