PRESS RELEASE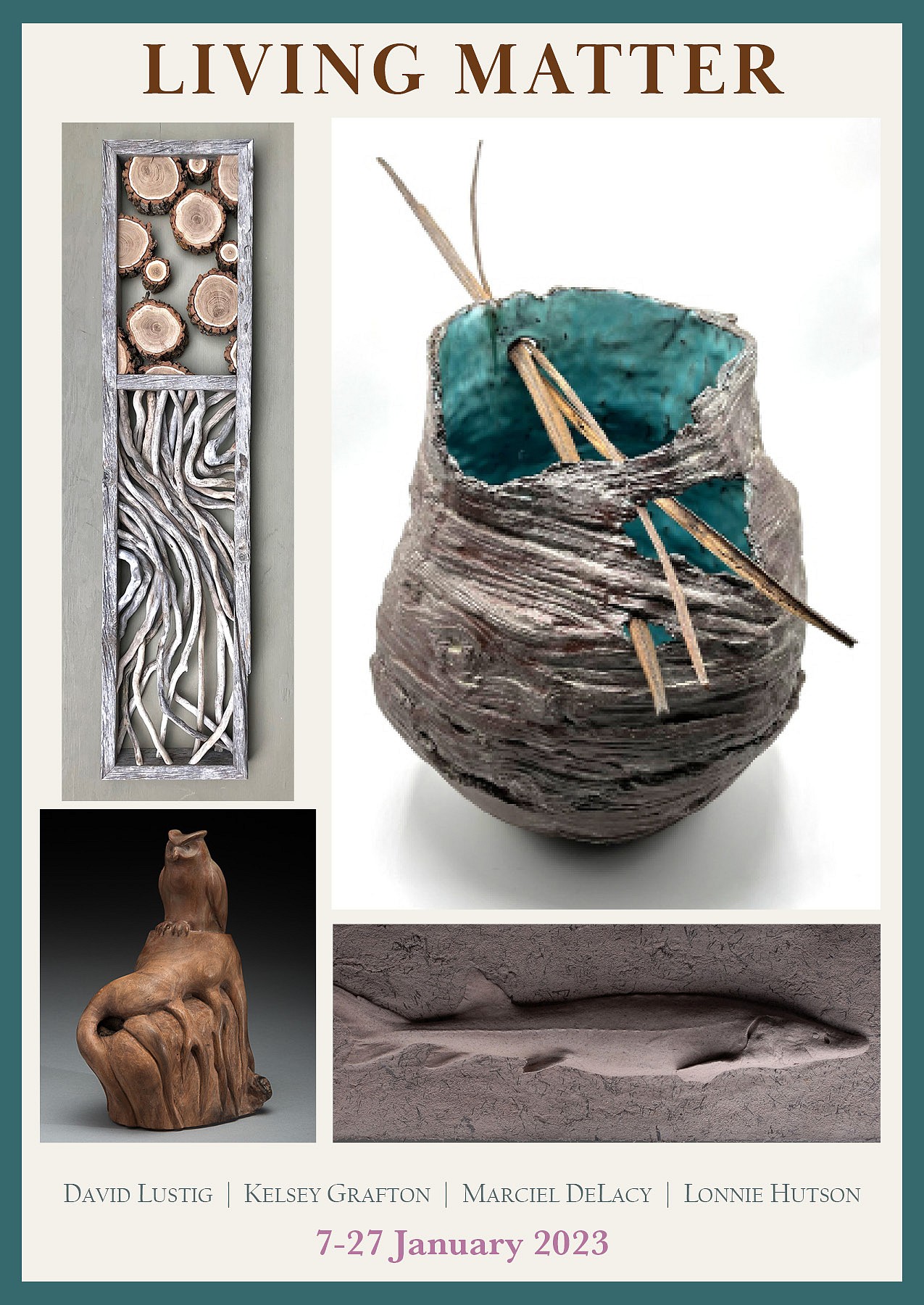 Living Matter
Show Date: January 7-29, 2023
Opening Reception: Saturday, January 7 from 11 am – 6 pm
Show Sponsor: Anthony's Seafood Restaurant
Winter Gallery Hours: Thursday-Sunday from 11 am – 6 pm
____________________________________
January 1, 2023 (Coeur d'Alene, ID) – The Art Spirit Gallery is proud to announce the first of their 2023 lineup of shows, "Living Matter". "All living things contain a measure of madness that moves them in a strange, sometimes inexplicable ways" wrote Yann Martel in Life of Pi. Our "Living Matter" show exemplifies our artists approach to living things through materials including ceramic, wood, paper, drift wood and oil stick.
Our January show features artists David Lustig, Kelsey Grafton, Marciel DeLacy and Lonnie Hutson.
Please join us as we celebrate the arts throughout our region.
ABOUT THE ARTISTS
David Lustig – Manhattan, Montana
David Lustig lives in Manhattan, Montana, surrounded by the beauty that inspires his artwork. Using roots, branches and other natural elements, David tries to emulate the organic form of nature, bringing its colors and textures indoors. The materials for each piece are meticulously collected and thoroughly dried to insure longevity for generations. Self-taught and still learning, David now creates unique works of art that capture our ardor for nature.
"I started combining my love of art and the outdoors at an early age, sketching and painting the wooded environments that I ceaselessly wandered. As I grew up, my love of art and my affection for nature grew with me. I found that both fulfilled a great need in my life, and I religiously allotted time to both. Through the years I've embraced many different types of art media, but it wasn't until recently that I attempted a long-pondered idea that would marry my two passions. By using nature's palette, it would become the art I create today."
Kelsey Grafton – Lewiston, Idaho
Kelsey Grafton is a multi-disciplinary artist working in diverse mediums, from ceramic, oils, acrylic, watercolor, found objects, metals, enamels, song and sound.
She received her BFA in Illustration, Magna cum Laude, from Cornish College of the Arts in 2001. After spending a decade in the Seattle area she traveled the globe experiencing diverse cultures. She spent two months working in Uganda with the African Child Foundation's Women's Empowerment Program teaching hand crafts and developing marketing packets to help secure sustainable incomes for families in need.
Grafton is an award-winning artist and illustrator who has had broad experience as an independent freelancer and in diverse corporate settings as an in-house graphic artist. She recently served five years in non-profit arts administration as the Exhibit & Programming Coordinator at Lewis-Clark State College Center for Arts & History in her hometown of Lewiston, ID.
Kelsey currently resides in Moscow, ID with her two kids who serve as her business partners and life coaches. You might find them occasionally pedaling her wares at the Blue Sky Mondays BIG IDEA Emporium; a 10'x10' pop-up gallery at the Moscow Farmers Market. She recently graduated from the University of Idaho's College of Art & Architecture with a Masters of Fine Art.
Marciel DeLacy – Seattle, Washington
Marceil DeLacy's love of carving began as a child living on the outskirts of Seattle. With a pocketknife, she created images from ivory soap, then letter openers from kindling wood and arrows from tree suckers before graduating to the use of chisel and mallet. She learned her craft from the wood itself, letting it guide her eye and hand. In the early 1980's she began serious fine art sculpting, winning awards in juried shows and having her work shown in the Bellevue Art Museum. After a break to pursue other interests, she resumed her artwork on a full-time basis, working in wood salvaged locally in the Pacific Northwest.
Marceil's lifelong affinity for trees and love of nature inspire most of her sculpted subjects. As human encroachment and climate change displace flora and fauna, her art serves as a way of giving voice to nature. To this end, she strives for simplicity of form and generally uses only a clear finish or no finish at all in order to let the natural color and beauty of the wood speak for itself. It's a process she calls "listening to the forest."
Marceil's work is in the permanent collection of the Bainbridge Island Museum of Art as well as in many private collections. Her work is shown in various galleries and on line. Last year, her work showed at the 2019 Seattle Art Fair and some of her new works are also scheduled for the next Seattle Art Fair.
"I think of a tree as providing what I call 'a space of grace' for those who pause in its presence. My hope for the sculptures I create is that they, too, will provide such a space for the onlooker. In a world in turmoil we need to summon the tranquil places and the natural beauty of our planet. My sculptures are natural conduits of this message. I especially love to take a simple rough old hunk of wood and restore its natural beauty and character through sculpture."
Lonnie Hutson – Deary, Idaho
Lonnie Hutson is an artist, designer, wilderness guide and outfitter. As a college student at the University of Washington (Seattle), he first began exploring rivers in Washington state. After graduating he accepted an invitation from world-renowned environmentalist and founder of Grand Canyon Dories (GCD), Martin Litton, to join his Idaho crew.
For twenty years, Lonnie guided whitewater rafting and fishing trips In Idaho and the Grand Canyon. During that time, he also earned an MFA in painting and drawing. In 1999, Lonnie left GCD and co-founded Sundog Expeditions with his wife Gail Siegel. Their company provides fully-guided multi-day river adventures in Idaho, Oregon and Alaska, where they conduct float trips in Wrangell-St. Elias Park and Preserve, Arctic National Wildlife Refuge and Gates of the Arctic.
During the winter months, Lonnie works at his studio/shop, near Deary, Idaho, making artwork that reflects his connection to wilderness and his concerns for a sustainable environment. In addition to his work as an outfitter and artist, Lonnie also teaches yoga classes and group lessons in drawing and painting.
Lonnie holds a BA in Architecture from the University of Washington (Seattle), an MFA from the University of Idaho (Moscow) and is a registered yoga teacher with Yoga Alliance. He shares a rural home, which he designed and built, with his wife and their menagerie of dogs and cats.
"Imagine the world without free-flowing water, wild salmon or the great white sturgeon, North America's largest freshwater fish, an ancient species that has been patrolling rivers and estuaries for 175 million years.
"My handmade paper relief sculptures, document the native fish species of the Pacific Northwest and Alaska, including threatened or endangered fishes such as chinook salmon, steelhead, bull trout, sockeye salmon and white sturgeon.
"Using art to present the familiar in a new way, fish are stripped down to essential form and represent a healthy river ecosystem. Health, defined as "a flourishing condition and well-being," is a concept grounded in science yet easily understood by the public, just as a fish is something everyone has had experience with.
"I have worked as a wilderness guide and outfitter for over forty years, observing firsthand the rapid and sometimes dramatic changes occurring in our physical environment. I have had the opportunity to compare Alaska's healthy ecosystem with those of the increasingly sterile rivers of the Pacific Northwest.
"Since fish first emerged over 520 million years ago, they have evolved within ecosystems that have enabled and supported their survival. Yet, in the past one hundred years, pressure from human activity has disrupted that delicate balance, resulting in diminished fish populations, that put some species at risk of extinction.
"By focusing on native fishes as a barometer for river health, my hope is that this work will produce consideration for environmental sustainability, help bring awareness to ecological concerns and spark conversations about maintaining and/or rebuilding our natural resources for everyone and everything with a current or future vested interest."