PRESS RELEASE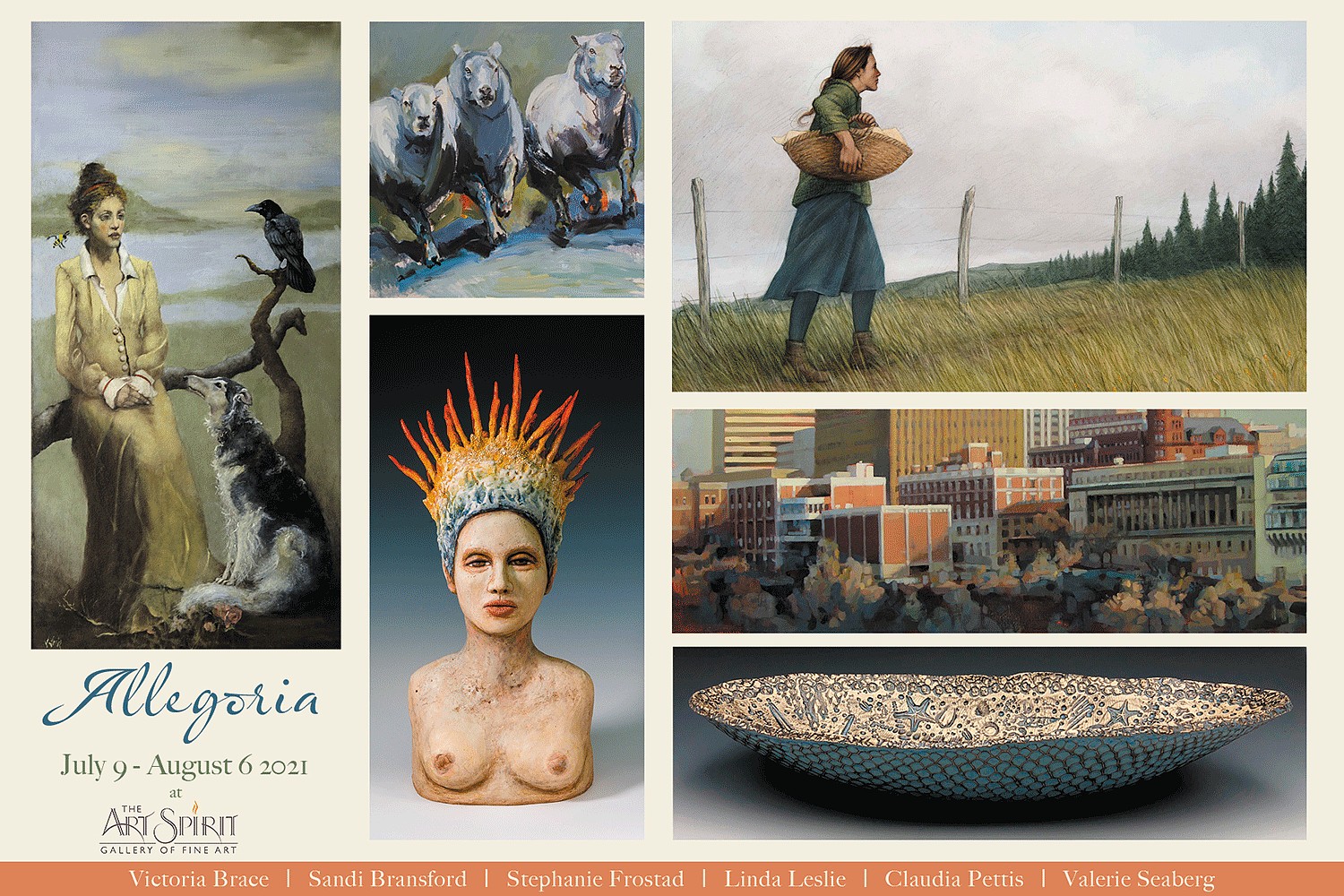 The Art Spirit Gallery is excited and proud to announce this year's incredible July exhibit, "Allegoria", featuring an amazing new collection of work from artists Claudia Pettis, Victoria Brace, Sandi Bransford, Valerie Seaberg, and Linda Leslie. We hope you'll come join us as we present this selection of works from our very talented artists!
________________________
About the Artists
Claudia Pettis - Whidbey Island, WA
Claudia Pettis' dreamy and lush portraits have become a recognizable manifestation of her career as an artist, spanning subjects from people to, perhaps most iconically, sheep. Originally starting her studies at The Cornish School of Art in Seattle, WA, Claudia has created a defined and romantic approach to her artwork that has been meticulously crafted over the past several decades.
She now resides comfortably in Whidbey Island. Claudia has been the recipient of the Dan Adelaide Sculpture Scholarship Award and the Best of Show Award at the Edmonds Art Festival, amongst other notable recognitions.
Victoria Brace - Spokane, WA
Spokane-based artist Victoria Brace was born and trained in Russia, where she graduated from the Moscow College of Art. Her work can be found in private collections across Russia, Western Europe and the United States. Urban landscapes and intimate portraits have become staples of her pieces, with each painting carrying emotionally nuanced narratives and structures.
"It is said that there should be poetry in visual art. In my new paintings, I took it literally and was paying attention not only to fleeting things like "the feel of a painting" or atmosphere, but also emphasizing the very formal aspects - repetition, rhythm, rhyme - in shapes, in colors, in lights and shadows. I've been consciously avoiding any singular focal point in these works, trying to create images that flow like sentences; compositions that guide the eye in a certain way through the accents and pauses, similar to what we see in verbal (written) language."
Sandi Bransford - Seattle, WA
Sandi Bransford's artwork is inherently connected to visualizing the human experience. Themes of empathy, human-to-human connection, and femininity all cross paths in her sculptures. Within her work, there is an expression of the individual as a part of the collective. "It is on a deeply spiritual or emotional level, steeped in remembrance, sympathy, empathy, joy, humor. It is where my story walks with your story."
Sandi grew up in Eastern Washington before moving to Seattle. Though she originally began her artistic career as a painter, she has since adopted a 3-dimensional medium.
Over the past decade, she's been a part of numerous exhibitions in galleries throughout Washington, Idaho, and Montana.
Valerie Seaberg - Sebastopol, CA
California artist Valerie Seaberg describes herself as "an ocean child destined for mountain life". Her mixed media vessels are like great, tumbled beachcombing finds in which undulating clay forms are encircled by delicate natural materials, such as pine needles, snakeskin, and horsehair. Her works are muscular, sensual, and speak of a deep sense of time, earth, and element.
Valerie received her Bachelor's degree in religion from West Virginia Wesleyan College in Buckhannon, West Virginia and earned her Master's degree in Counseling/Psychology and Expressive Arts Therapy from the Institute of Transpersonal Psychology in Palo Alto, California.
Valerie discovered basket making while living and teaching in a remote California healing arts school. A desire to work more spontaneously led her to work in clay, and she soon began replacing basket centers with clay forms.
Linda Leslie - Missoula, MT
Linda Leslie is finding herself at a new point in her artistic journey. "I'm doing much more planning for my paintings now. I'm developing my methods and technique for making them more real, more based on truth, less interpreted and stylized". Her new works reflect this ideology: portraits of humans and animals that seem centuries-old showcase her talent for detail, craft and execution. "I may still be stuck in the 18th Century, because my paintings often feel like they are coming from another time."
Over the course of the past four decades, Leslie has been fine-tuning her studies of classical figurative painting. She is currently a non-resident Artist Member of the Salmagundi Club. Previously, she studied at the Art Students' League and the National Academy in New York.
____________________________
We're so excited to have you join us to celebrate these incredible artists. This exhibit will also be available to view online at our website www.theartspiritgallery.com, and we'll have featured artist spotlights on our Facebook and Instagram!