PRESS RELEASE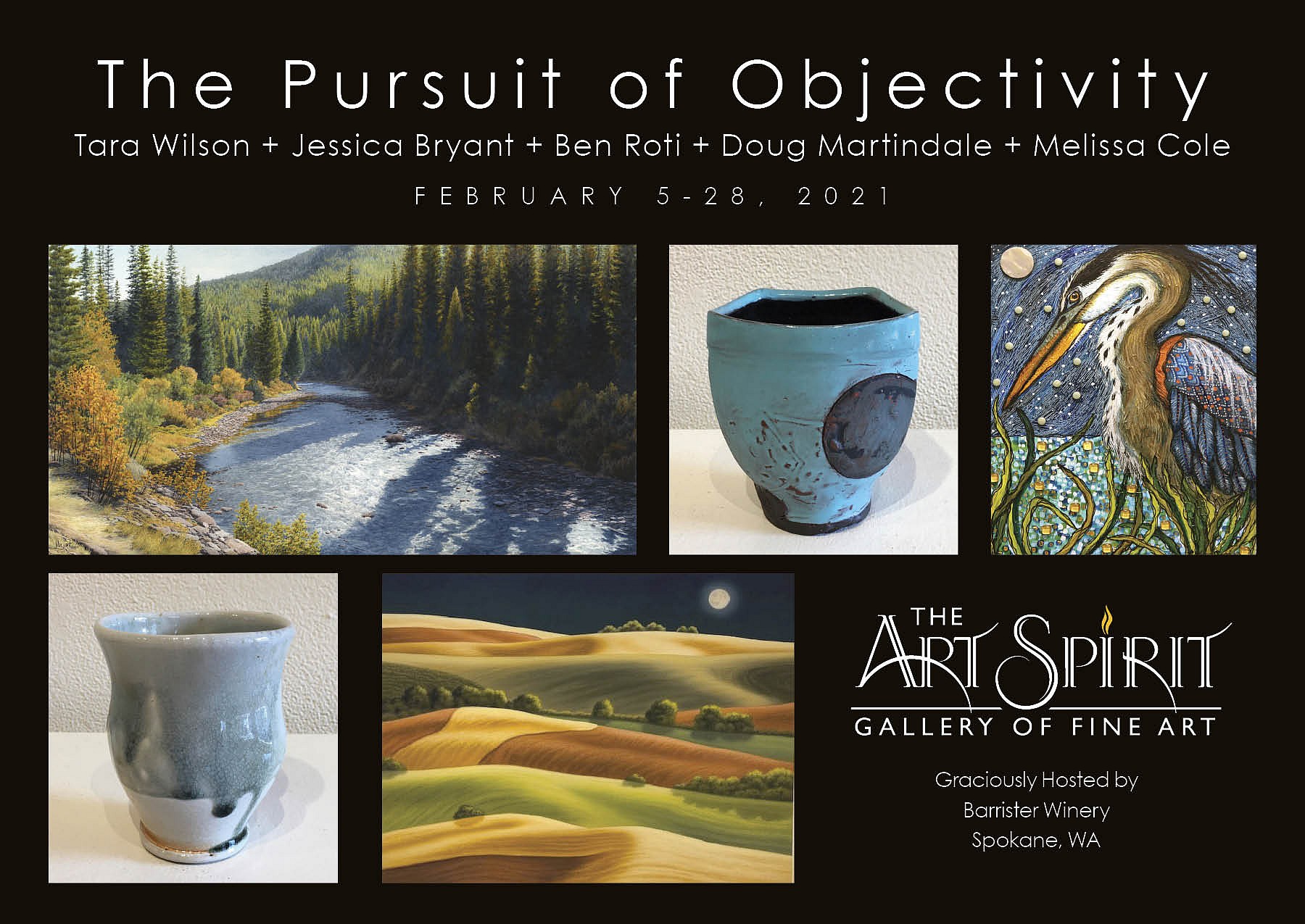 The Art Spirit Gallery hangs "The Pursuit of Objectivity" at Barrister Winery
The Art Spirit Gallery proudly partners with Barrister Winery again to celebrate fine wine and art in February. This month's exhibit, "The Pursuit of Objectivity," showcases a new body of work by three local artists, including watercolorist Jessica Bryant, mixed media artist Melissa Cole, and pastel artist Doug Martindale.
Currently, Barrister is open seven days a week at 25% capacity for glass and bottle sales under the Washington State Health Guidelines. Masks are required during the stay with the exception for eating and drinking. Enjoy!
About the Artists
Jessica Bryant, Coeur d'Alene
Passionate about nature and wilderness, Jessica Bryant is frequently found in the less traveled areas of our National Parks and other wilderness areas. Most of her work centers on her attraction to the natural world that exists apart from the human activity, as both analogy and counterpoint to the struggle and joy of humanity and modern life. A keen interest in contemporary design underlies a seemingly traditional subject.
In 2018, Jessica was the 2018 Artist-in-Residence for the Idaho Conservation League, and she has served eight terms as Artist-in-Residence for the National Park Service. Parks served include Badlands National Park, Rocky Mountain National Park, Joshua Tree National Park, and the Western Arctic National Parklands. Jessica has also visited the Owyhee Canyonlands Wilderness Area in southwest Idaho as Artist-in-Residence for the Bureau of Land Management and completed two residencies for Sorensen Magnet School of the Arts and Humanities in Coeur d'Alene, focusing on a local natural area, Tubbs Hill.
Jessica's work has been in numberous national and international exhibits, including the Flora of the National Parks exhibit at the United States Botanical Gardens in Washington, DC, Google Cultural Institute's One Object project celebrating the centennial of the National Park Service, and the National Parks Artists in Residence Across the Country exhibition in Cape Cod. Recent exhibit highlights include the 146th and 153rd Annual International Exhibitions of the American Watercolor Society in New York City, and the 77th, 78th, and 80th Annual International Exhibitions of the Northwest Watercolor Society, of which she is a signature member.
Melissa Cole, Spokane Valley
Melissa Cole was born in Oregon and raised in London, Hong Kong, and India. She graduated from Oregon State University with a degree in Zoology, worked in the Dominican Republic as a Peace Corps volunteer in reforestation and environmental education, and spent time as a naturalist guide in Mexico and the Caribbean. As an artist, she is strongly influenced by folkloric designs and global patterns found in ceramics, batiks, sculptures and mosaics, which she sees in her travels abroad. Her artwork strives to bring themes of science and the natural realm to urban settings, encouraging people to reconnect with nature.
"My works of art are woven with themes of nature, love, emigration, movement through space, and the human condition. Social inequality unsettles me, and I endeavor to voice my feelings regarding this theme through my creations. The colorful imagery included in this exhibition is meant to be a celebration of nature and of planet earth during this dark time in history. Koi represent long life and good fortune and I've included a few in this collection. I've also addressed the subject of love, and nurturing-of each other and of earth."
Melissa's creations are showcased in national galleries, corporate and private collections, aquariums, hospitals, schools, and numerous public places.
Doug Martindale, Spokane
Born and raised in Spokane, Doug Martindale received his Bachelor of Fine Arts Degree from the Cornish College of the Arts, a highly regarded private arts college. During an art walk in Seattle, Doug was inspired by the work of Susan Bennerstrom, an accomplished northwest pastel artist. He later took an intensive workshop in soft chalk pastel painting from Bennerstrom and became hooked with the pure, intense color and richness of the medium.
It is in his pastel paintings that Martindale feels he has really found his true niche in his method of artistic expression. His idealistic interpretation of the landscapes he paints transcends the viewer into a timeless, perfect space. One can clearly see the incredible attention to detail in his work. The rich, bold color variations and dramatic compositions continue to be alive, sumptuous and compelling.
Doug's work has been purchased by numerous private and public collectors, including the Microsoft Corporation, Nordstrom department stores, Chateau Ste. Michelle wineries, and the Radisson hotel chain.
Ben Roti, Camp Verde
Ben Roti is a ceramic artist originally from Spirit Lake, IA. He attended the University of Iowa in Iowa City, IA, from 2006 to 2010 and graduated with a Bachelor of Fine Arts degree in Ceramics. During college, Ben's ceramic work concentrated on the elements of world conflict culminating in his BFA show, "The Cost of War." After finishing his BFA, Ben accepted a position as a studio assistant to ceramic artist, Don Reitz in Clarkdale, Arizona.
Over several years (2010-2014), Ben had the opportunity to work with Don Reitz in the studio, assist with workshops in Montana and Florida, and was instrumental in the installations of gallery shows in Chicago, Denver, and Kansas City. At the Reitz Ranch, Ben furthered his knowledge in atmospheric firing with wood and salt types as well as a soda kiln in St. Petersburg, FL. He also was a part of constructing and repairing kilns.
Since leaving the Reitz Ranch, Ben has returned to creating functional works using low-fire earthenware clay and has begun to develop a new body of work. Using reductive techniques, through sandblasting, Ben is able to build variations and create layers, which are inspired by the results that are commonly seen in atmospheric firing.
Ben currently resides in Camp Verde, Arizona, with his wife, Kami and son, Leo.
Thank you for helping us promote this unique show!