PRESS RELEASE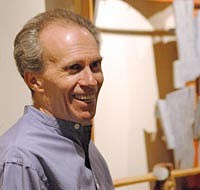 August 12, 2011 - September 3, 2011
The Art Spirit Gallery at 415 Sherman Avenue in Coeur d'Alene will open a show of new work by Robert Grimes with a reception on Friday, August 12 from 5-8 in conjunction with the 2nd Friday Downtown ArtWalk. Everyone is welcome.


On Saturday, August 13, Robert will give an informal talk about his work starting at 1:00 in the gallery.


This show is sponsored by The Radiologists of Kootenai Outpatient Imaging. We thank them for their continued support of the arts in our community.


Open every day from 11-6. Call 208.765-6006.


Robert Grimes


An artist since he completed his first painting at 13, Robert Grimes has the mind of an inventor. His work contains layers on soft wood– organic, mechanical, traditional and progressive – carved, sculpted, folded and painted. Using sanders, saws and drills, dowels, screws and glue, Grimes brings forth images akin to maps and plans, landscapes of the unknown yet somehow familiar. "When I begin a piece, I have no game plan," he said, "I begin with automatic drawings and the results are subconscious. The paintings grow."


His automatic drawings are contained in dozens of sketchbooks from as far back as 1981, pages filled with elaborate doodles. "I avoid making things recognizable for as long as I can," he explains, "but things come out."


Whatever he is tapping into, it is ancient and universal, beyond consciousness. He lays one drawing over another, expanding on an original invention and creating something new, destroying and recreating, making room for fresh trains of thought; a simple chair is given new purpose or the human form becomes a vessel, taking a viewer past what is to what might be. Leonardo da Vinci would certainly ponder "what are these devices?" Looking at his work, a viewer could easily imagine being on a ship exploring space and landing on dozens of worlds in many time periods and being met by many cultures, different yet relevant.


Edgy and one-or-a-kind, Grimes' newest works include images carved and folded on plywood reminiscent of a childhood pop-up book right down to the glee we all experienced as the story came alive at the turn of each page. "It's always an unpredictable discovery," Grimes says of his work which is a mix of childhood wonder and a kind of out-of-this-world intelligence. "It is the playful spirit of discovery that sustains me."