PRESS RELEASE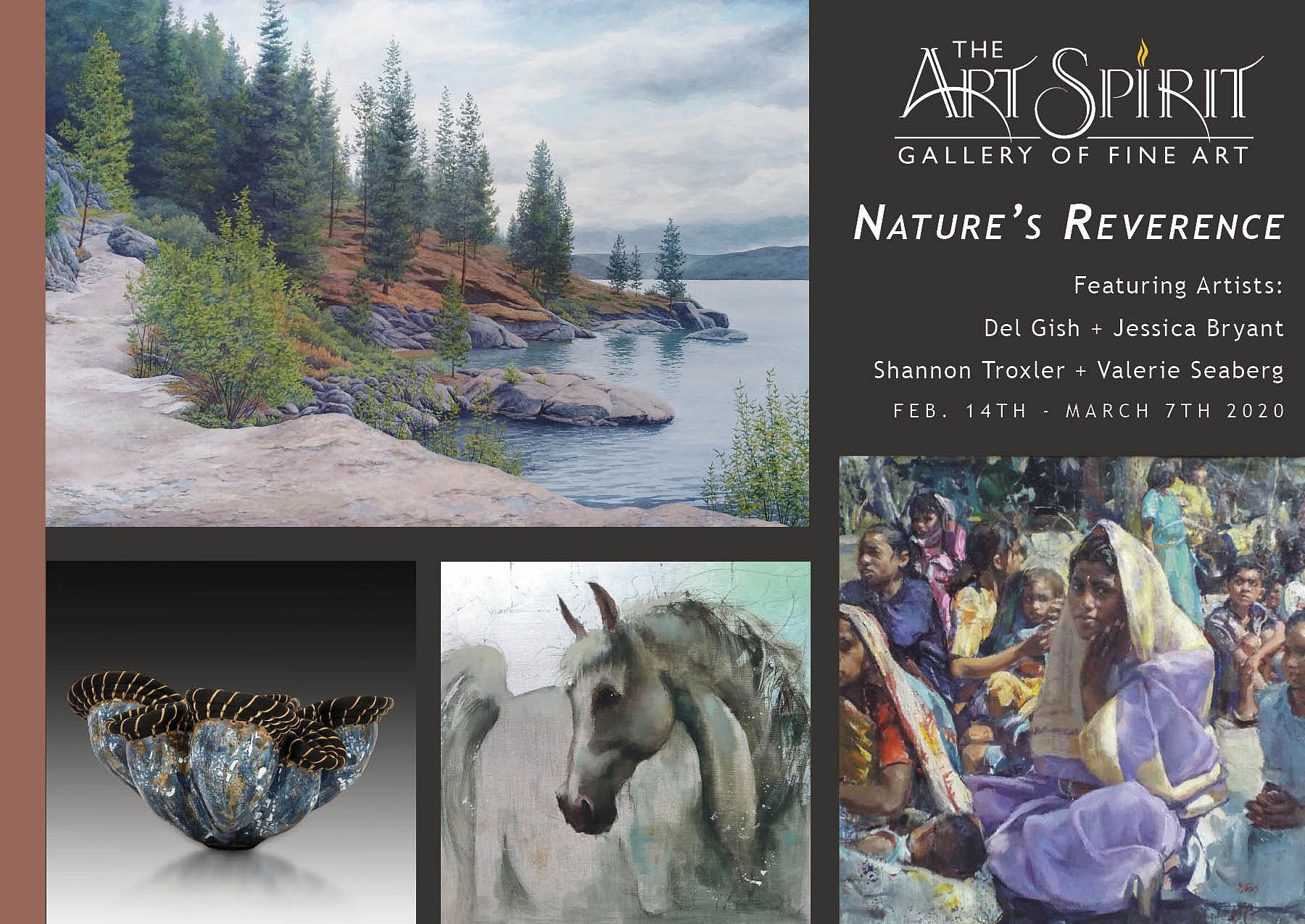 Show Date: Friday, February 14 through March 7
Opening Reception: Friday, February 14 from 5-8 pm
Show Sponsor: JUB Engineers
Winter Gallery Hours: Tuesday through Saturday from 11 am – 6 pm
February 2 (Coeur d'Alene, ID) –
"Nature will bear the closest inspection. She invites us to lay our eye level with her smallest leaf, and take an insect view of its plain." ~ Henry David Thoreau.
The Art Spirit Gallery is proud to present "Nature's Reverence," featuring artists Del Gish, Jessica Bryant, Shannon Troxler and Valerie Seaberg. Each of these creators draws upon inspiration from the great outdoors; their nature-inspired work reminds us of the surrounding beauty to be revered and celebrated.
Join The Art Spirit Gallery at our opening reception Friday, February 14th | Valentine's Day.
Gallery hours are Tuesday–Saturday from 11am – 6pm.
ABOUT THE ARTISTS
Del Gish – Medical Lake, WA
Del Gish is celebrated for his classic still life, portrait, and landscape paintings, many of the which capture memories of the artist's travels in Russia, India, and Rwanda. Based on intense observation and studio discipline Del demonstrates a profound respect for a tradition that prescribes painting as a vehicle for self-knowledge, a tool for probing the nature of visual truths. He balances a finely-tuned understanding of aesthetics—color, shape, value, shadow, light, form—with an intuitive ability to unify those same aesthetics into a balanced whole.
Del Gish received his master of fine arts degree from the University of Idaho after an undergraduate degree in philosophy from Northwest Nazarene University. He had the great opportunity to study with Russian American master Sergei Bongart and helped organize the well-received Bongart workshops in southern Idaho. He furthered his studies at the Art Students League in New York under notable painters David Leffel, Harvey Dinnerstein, Burton Silverman and Nelson Shanks. Del's work is in public and private collections, including the Art Students League in New York City, the Seattle Art Museum, the Frye Art Museum, and the SAFECO collection.
Jessica Bryant – Coeur d'Alene, ID
Passionate about nature and wilderness, watercolorist Jessica Bryant is frequently found in the less traveled areas of our National Parks and other wilderness areas. Jessica has served seven terms as Artist-in-Residence for the National Park Service, with more planned for the future. She has also visited the Owyhee Canyonlands Wilderness Area in southwest Idaho as Artist-in-Residence for the Bureau of Land Management, and she has completed two residencies for Sorensen Magnet School of the Arts and Humanities in Coeur d'Alene, Idaho, focusing on a local natural area, Tubbs Hill.
Jessica's work has been in numerous national exhibits, including the Flora of the National Parks exhibit at the United States Botanical Gardens in Washington, DC, Google Cultural Institute's One Object project celebrating the centennial of the National Park Service, and the National Parks Artists in Residence Across the Country exhibition in Cape Cod. Recent awards include publication in the North Light Books series Splash 17: Inspiring Subjects, selection as a finalist in the Artists Magazine's Annual Art Competition, selection into the 77th Annual International Exhibition of the Northwest Watercolor Society, and selection into the 146th Annual International Exhibition of the American Watercolor Society. For the latter, Jessica's work was displayed in the historic Salmagundi Art Club in New York, NY. Jessica is a signature member of the Northwest Watercolor Society.
Shannon Troxler – Wilson, WY
Painter Shannon Troxler continually explores and experiments with new mediums that challenge and excite her. The artist is well known by Art Spirit Gallery patrons for her gracefully painted birds on gold leaf. For this exhibition, Troxler's collection of birds, including hummingbirds, barn owls, swallows, ravens, and more will take flight on the gallery walls.
Shannon Troxler is a graduate of the Schuler School of Fine Arts and the Art Student's League, where she learned a deep appreciation for the craft of classical art while grinding pigments and making her own charcoal. Currently, she continues to explore new mediums and methods in her studio in Wilson, Wyoming. Her latest passion involves molten wax, a blow torch, and the encaustic medium. Her work has been featured by the Leigh Yawkey Woodson Art Museum, Birds in Art Exhibit, The National Museum of Wildlife Art, The Governor's Capitol Art Exhibit, and Arts for the Parks, and the Wyoming State Museum.
Valerie Seaberg – Sebastopol, CA
Wyoming artist Valerie Seaberg describes herself as an ocean child destined for mountain life. Her mixed media vessels are like great, tumbled beach combing finds, in which undulating clay forms are encircled by delicate natural materials, such as pine needles, snakeskin, and horsehair. Her works are muscular and sensual and speak of a deep sense of time, earth, and element.
Valerie received her Bachelor's degree in religion from West Virginia Wesleyan College, in Buckhannon, West Virginia and earned a Master's degree in Counseling/Psychology and Expressive Arts Therapy from the Institute of Transpersonal Psychology in Palo Alto, California. Valerie discovered basket making while living and teaching in a remote California healing arts school. A desire to work more spontaneously led her to work in clay, and she soon began replacing basket centers with clay forms.