PRESS RELEASE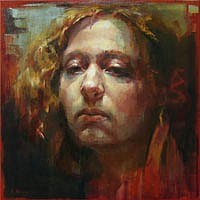 October 14, 2011 - November 5, 2011
The Art Spirit Gallery at 415 Sherman Avenue in downtown Coeur d'Alene is proud to open a show of 30 new oil paintings by Victoria Brace with an opening reception from 5-8 on Friday, October 14th in conjunction with the Downtown ArtWalk. Everyone is welcome!
………………………………………………………………………………………………
Art in the Making: On Saturday, October 15 watch Victoria Brace and 12 more artists draw, paint and sculpt from two live models with the accompaniment of live music from 1-4 in the Coeur d'Alene Plaza Shops at 210 Sherman Avenue. Art in the Making is a free performance brought to you by The Art Spirit Gallery and is part of Art from the Heart, Coeur d'Alene's annual fall festival of the arts brought to you by the Coeur d'Alene Arts & Culture Alliance.
…………………………………………………………………………………………………
Victoria Brace
Exhibition Statement:


"People, Places and Things"


A familiar place;
An ugly place;
An achingly beautiful place;
An everyday object;
A friend;
A stranger;
A passing moment;
A clinging memory;
A dream;
…Recollections of all of the above…


"And it begins with: "I had a brief glimpse in my mind of what this painting should look like…now, how am I going to paint it? Can I paint it? Can I figure out what is it all about? Occasionally, the paint and the surface are kind to me, and things fall into their right places fairly painlessly. More often than not, it's a struggle: painting, scraping it off, re-painting, moving things around, searching for the solution, re- working again, giving up, starting over; searching for references, abandoning all the references, re-constructing reality; making mistakes, finding a right note that helps to tune the rest of the painting, listening to the painting, figuring out what it wants."


Additional Notes about my painting:
"I don't try to limit myself to a particular subject in painting. To me, it's all about light, shadows, shapes and color - and hopefully, they will convey a certain feeling/story when a painting is finished, the feeling that has inspired me to start it.


My painting process is rather slow. I do have a very clear idea in my mind of what the finished work should look like, but I don't have enough patience to work in a proven traditional method – detailed sketch, drawing, under painting, glazes… I need to be able to improvise at any stage of the process, and I tend to work on the entire canvas, so it's more like layers upon layers of alla prima painting, where shapes keep shifting and re-adjusting and colors may change dramatically, until I hit the right note. Each of these layers takes me closer to the final result, and when I get enough of the "right notes", the painting starts suggesting to me what to do, and then it basically creates itself. At this point, I have to put aside all my references (or disassemble a still life setup) and just see what the painting needs.


For most of my figurative works, I don't have models, unless it's a self portrait, so the characters are purely fictional. I see them in my mind, and I try to make them real – it's fun and frustrating at the same time. I want them to be believable, I want them to have personalities, and I want to know about their lives, I want to know what they are thinking…


With the cityscapes, it's a bit different. Sometimes I see a place, and it inspires me. And sometimes I have a preconceived idea, and then I go look for a suitable reference in the downtown. But the painting process is a lot like with the figurative works, as I don't paint on location, and my photographs are so bad, that they can only work as factual references, but not for "look and feel". So again, it's re-constructing reality, layers after layers, until I get it to the point when it looks the way I want it to look. Quite often, I have to go back to the place several times, take notes, and see it at different angles, in different lighting situations.


In a way, I try to treat my cityscapes as portraits of Spokane. I do believe cities have personalities, distinctive mood, structure, and rhythm. People build towns, they plan them, have a vision, shape them and rebuild... but after a long period of time, a place develops its own character; there are enough layers of history, events, different aesthetics accumulated, so a city becomes similar to a living organism. This is the reason why I usually don't have people in cityscapes, as I don't want to reduce what I intend to be a portrait of the city - to a street scene, a snapshot of a moment." --Victoria Brace