PRESS RELEASE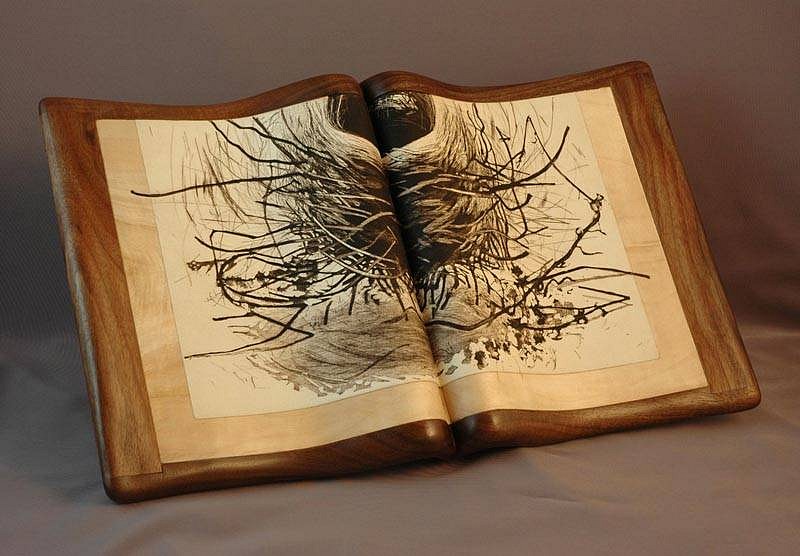 The Art Spirit Gallery is proud to open a show by Morse Clary & Mary Farrell with 38 new works. The opening reception is on Friday, November 9 from 5-8. Meet the artists and enjoy an evening of fine art, fine dining and good friends in downtown Coeur d'Alene. Everyone is welcome!
………………………………………………………………………………………………
Morse Clary will give an informal talk/demonstration in the gallery on Saturday,
November 10, starting at 1:00.
………………………………………………………………………………………………
Morse Clary received his MFA from the University of Idaho in 1970 and taught art at university level for 3 decades while fostering his own fine art passion. He retired from teaching in 1998 as Professor Emeritus from Columbia Basin College, Pasco, Washington and dedicates his time to making art in his studio.
"This series of work is an investigation of the "book" as a sculptural metaphor. Having taught visual arts at the college level for thirty-two years, I have a great love and respect for books as embodiments and conveyors of ideas, stories, information and other potentials. I also enjoy their tactile qualities of texture, weight, and substance.
The concept of these books is outside of the traditional and expected and, therefore, they must be read differently. The suggestion is that certain meanings are beyond words and can only be conveyed via the visual and tactile elements that are the language of the visual arts. The viewers must extend frames of reference and respond to substance and nuance.
Often found objects appear, most of them from the natural environment which has always informed, amazed and inspired me with its great mysteries and beautiful solutions to problems of form, color, texture, and line. There is occasionally a musical reference as I often hear composition as a way of seeing/feeling my way to it.
The challenge is to approach an open volume as if it was written by the only speaker of an unknown language and, using one's own frame of reference for the cues embedded there, attempt to tell oneself a story.
Enjoy the story and the mystery." -Morse Clary
Printmaker Mary Farrell's ethereal yet deeply personal works have spoken an internationally understood language to cultures from Bulgaria and Finland to Korea and New Zealand. Gonzaga University in Spokane, where Farrell is professor in the art department, has honored her with research awards three consecutive years and named her Scholar of the Year.
Farrell's new work includes a series of self portrait monotypes, intaglio etchings, mezzotints and drawings. "Personal reference makes them universal," she says. "That my work continues to resonate, has life outside of me, is highly significant to me."
Farrell studied printmaking at the Art Academy of Cincinnati and earned her master's degree in fine arts from the University of Cincinnati. Her work is part of the collections of the Portland Art Museum, City of Seattle Art Collection, Jundt Art Museum in Spokane, Wash., and the Northwest Museum of Arts and Culture in Spokane. It also graces collections at Heidelberg Distributing Co. in Cincinnati, Ohio, Northwest Community Hospital in Chicago, Ill., Price Waterhouse in Cincinnati and the University of Texas at Tyler.
Internationally, Farrell's work is part of the collection at the China National Academy of Fine Arts in Hangzhou. It toured Great Britain in the fifth British International Miniature Print Exhibition. Her prints were featured in the Third Lessedra World Art Print Annual at the National Palace of Culture in Sofia, Bulgaria; the 12th Space International Print Biennial in Seoul, Korea; the NWPC Show in Central Point Council, Wanganui, New Zealand; and Miniprint Finland 2001 at the Lahti Art Museum in Lahti, Finland.