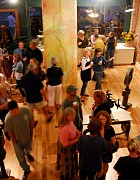 2022 Small Works Application
August 18, 2022
2022 Holiday Show – Unwrap The Creative
Call for Art

The Art Spirit Gallery is currently accepting entries for its 26th Annual Holiday Show, to take place Nov 4 - Dec 24, 2022.

For 25 years now The Art Spirit Gallery has hosted a holiday show featuring 'Small Works' of different genres and media. We are looking for the perfect gift giving quality pieces and all works will be considered. Please note that our brand is Northwest contemporary and works in this style are what our audience responds to most.

We will be unable to accept all of the works submitted, but we will do our very best to accommodate as much as possible.

Deadline: Friday, September 23rd, 2022 at midnight
ELIGIBILITY: Open to all artists in the United States and Canada, 18 years of age or older. Artists may submit only their own original artworks.
FIRST STEP: Click the "Download Article" below AND READ BEFORE SUBMITTING
SUBMIT YOUR WORKS HERE: SUBMIT HERE
Download Article (PDF)
Back to News