PRESS RELEASE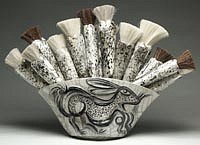 June 10, 2005 - July 2, 2005
Opening Reception: Friday, June 10 from 5-8 pm
EXHIBITION/ARTIST STATEMENT
"As soon as you accept the accidental effects, they are no longer accidents. They are necessity---the part of yourself that you could not expect or design beforehand. Thus the realm of your creativity grows wider." -Kazuaki Tanahashi
My fascination with the idea of the tool as art has been a highly focused pursuit of mine and continues to fascinate me because tools dictate how we live our lives.
Painting with one of my own hand made ring tail cat hair brushes on a semi-wet clay surface is a magical motion. It reminds me of seeing a surfer riding a wave in continuous motion relying on natures force to dictate the flow and out come of how the wave glides and curls.
The aspect of the plasticity of the clay and the risk of placing a ceramic object into the fire captivates me. There are not many traditional oil painters that would place a painting in a fire and expect to be anything in the end!
My ceramic experiences of learning about and living in the Japanese culture has allowed me to appreciate the tremendous beauty in nature's imperfectness. As a mixed media artist I utilize the proper materials to best fit the ideas in a particular moment of time. I'm drawn to the Asian culture and its universal appreciation of detail and craftsmanship.
My concepts related to the hand made brush have spanned from the singular brush as a work of art to allowing my body to become the brush itself.
The "hunt" for art materials from the natural environment pulls me in, allowing natures imperfectness to resonate through the art I create. When combing the beach for washed up bamboo & driftwood from the river beds after a hard rain, my eyes hone in on subtle curves, colors and patterns that feel good to the touch and would make both a comfortable and beautiful brush handle.
This weathered material is gold to me. The fit of a handle in the palm of my hand is important to the general feeling and direction the final brush stroke will take.
A wide variety of horse, deer, moose and cat hairs are used to create the individual brushes. The hand made brushes I create function on two primary levels as works of art and tools to paint with on ceramic, paper and cloth surfaces.