PRESS RELEASE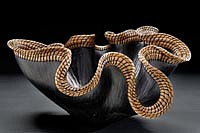 May 9, 2008 - May 31, 2008
Participating Artists:
-Jenny Andersen -Josh DeWeese -Gina Freuen -Terry Gieber - Gerit Grimm -Sarah Jaeger -Ryan Labar -Mika Negishi Laidlaw - Mardis Nenno -Patricia Sannit -Valerie Seaberg -Don Sprague - Tara Wilson
-Misc. aritsts from the resale of a Southwest Pottery Collection.
The Art Spirit Gallery will exhibit it's Ninth Annual Clay Invitational show with a wide variety of high caliber ceramic work by 13 artists. These artists are invited based on recommendations from clay artists that we have shown in the past as well as a careful review of artists that have approached our gallery. The opening reception will be Friday, May 9 from 5-8:00 in conjunction with the 2nd Friday Downtown Art Walk.
An additional feature of this year's show is the inclusion of a Southwest Pottery Collection representing artists from Acoma, Hopi, Jemez, Mata Ortiz, San Ildefonso, Santa Clara, Tesuque, Tohono O'Odham, Zia and Zuni.