PRESS RELEASE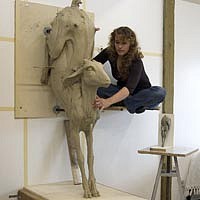 July 11, 2008 - August 9, 2008
The Art Spirit Gallery is proud to host a solo show of new clay and bronze sculpture by Beth Cavener Stichter.
This will be Beth's first solo show of new work since she was chosen as one of four emerging artists in the curated exhibition: From the Ground Up: The 2007 Renwick Invitational at the Renwick Gallery of the Smithsonian Museum of American Art.
……………………………………………………………………………
"Beth Cavener Stichter's art is marked by her poignant observations of both animal and human nature. Her large sculpted animals move beyond the physical realm into the psychological as they take on a human dimension. The dramatic postures and predicaments of her animals elicit strong emotional reactions because they remind us of human vulnerability"
-Jane C. Milosch, Curator at the Renwick Gallery of the Smithsonian American Art Museum
……………………………………………………………………………
Beth's new work is in progress and images are not expected to be available to post on the website until after the opening reception. Please contact the gallery if you would like more information.
This show is sponsored by Quarry Tile Co. & Precision H2O. We thank them for their continued support of the arts in our region.
Artist Statement
"There are primitive animal instincts lurking in our own depths, waiting for the chance to slide past a conscious moment. The sculptures I create focus on human psychology, stripped of context and rationalization, and articulated through animal and human forms. On the surface, these figures are simply feral and domestic individuals suspended in a moment of tension. Beneath the surface they embody the impacts of aggression, territorial desires, isolation, and pack mentality.
Both human and animal interactions show patterns of intricate, subliminal gestures that betray intent and motivation. The things we leave unsaid are far more important than the words we speak out-loud to one another. I have learned to read meaning in the subtler signs; a look, the way one holds one's hands, the tightening of muscles in the shoulders, the incline of the head, the rhythm of a walk, and the slightest unconscious gestures. I rely on animal body language in my work as a metaphor for these underlying patterns, transforming the animal subjects into human psychological portraits.
I want to pry at those uncomfortable, awkward edges between animal and human. The figures are feral and uneasy, expressing frustration for the human tendency towards cruelty and lack of understanding. Entangled in their own internal and external struggles, the figures are engaged with the subjects of fear, apathy, violence and powerlessness.
Something conscious and knowing is captured in their gestures and expressions--an invitation and a rebuke"
Methods & Biography
Beth Cavener Stichter is known for her dynamic, emotionally-charged animal and human figures. She has an unusual method of working, starting with a solid mass of clay and then hollowing each part of the sculpture down to the skin before reassembling the entire piece. The final form takes shape both by pressures from within and without. She digs away excess clay, sometimes re-using it on the outside, and pushes against the inner cavities to give the desired outer form. Beth's knowledge of both the human and animal form is exquisitely revealed in her ability to combine them in subtle, unexpected ways and to portray the anatomy as it is contorted, hung, squished or just tensed up. By this attention to accuracy, she enables the viewer to sense the emotions portrayed by stance, position and gesture.
Beth is currently a full-time professional studio artist. She received a B.A. in Sculpture from Haverford College, Pennsylvania in 1995 and completed her M.F.A. at Ohio State University in 2002. In addition to her academic training, she apprenticed with a sculptor in Nashville, Tennessee and at the Charles H. Cecil Studios in Florence, Italy. During her tenure at the Cecil Academy she became a Sculpture Instructor.
Several Artist-in-Residence programs have also played an important role in Beth's ability to focus on her work and experiment with techniques. She has been a resident at the Archie Bray Foundation in Helena, Montana, The Clay Studio in Philadelphia, and, more recently, Pottery Northwest in Seattle. These guest residencies have been augmented by several grants, such as an Emerging Artist Grant from the American Crafts Council, an artist fellowship from Ohio Arts Council, and the prestigious first-prize award from the Virginia A. Groot Foundation in 2005.
Over the last decade Beth's work has appeared in both solo and group exhibitions across the country. Her sculptures have been exhibited in numerous galleries and museums including the prestigious Garth Clark Gallery and Barry Friedman Ltd. in New York City, and the Renwick Gallery of the Smithsonian American Art Museum, Washington, DC. In addition to her busy exhibition schedule she is continually teaching workshops and has booked events through 2010