PRESS RELEASE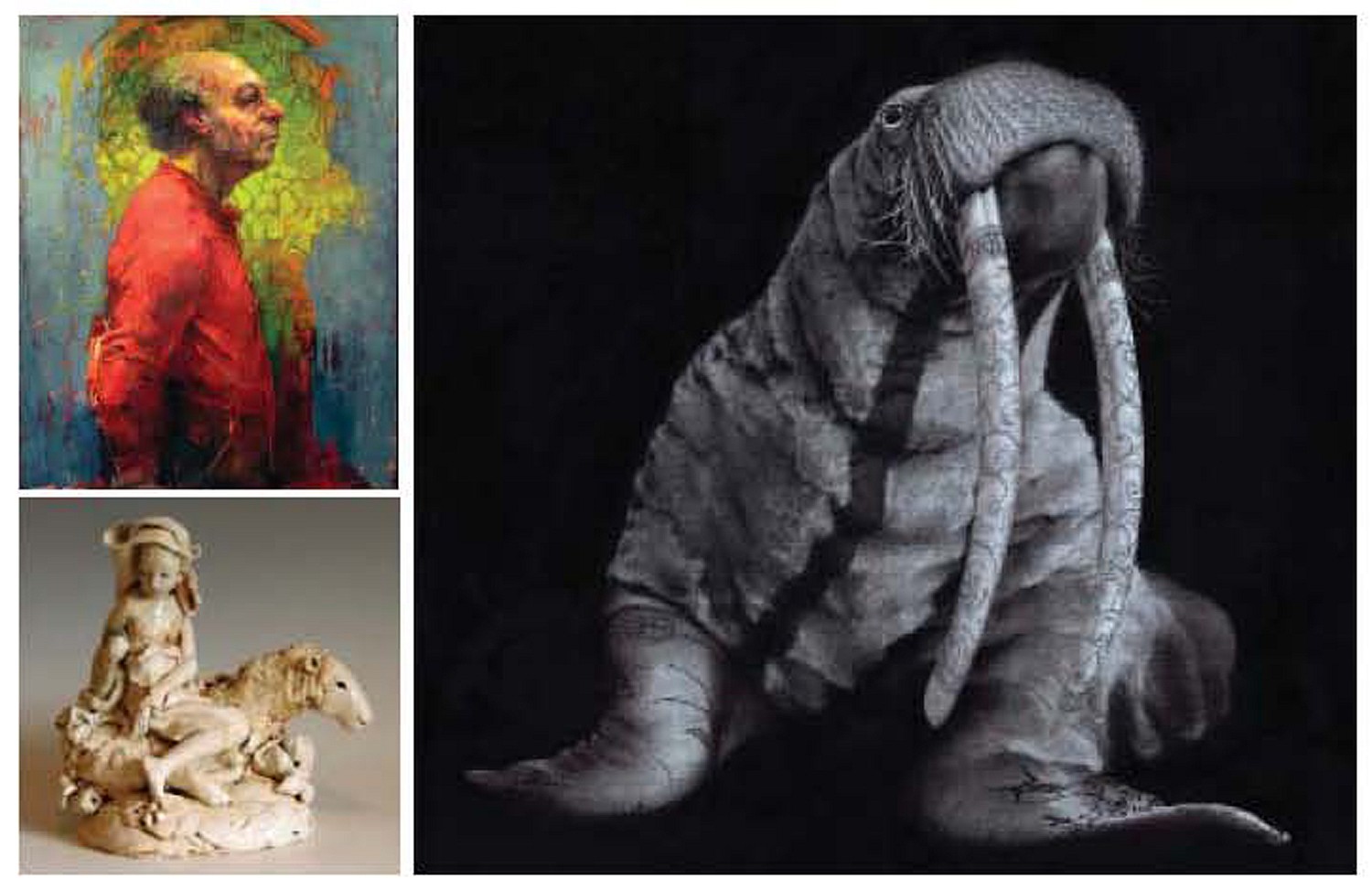 Join us Friday, May 12 from 5–8 pm for ArtWalk and the Opening Reception for new works by Victoria Brace, oil painter, Lindsey Meyers Carroll, charcoal artist, and Cary Weigand, figurative clay sculptor. Meet the artists and enjoy a lively evening in downtown Coeur d'Alene. Outside the gallery, watch spectacular performances by the young artists of Sorensen Magnet School of the Arts and Humanities. All are welcome. The show runs through June 3.
Opening Reception: May 12 from 5 – 8pm in conjunction with ArtWalk sponsored by the Coeur d'Alene Arts and Culture Alliance
This month's show sponsor is Fire Artisan Pizza. We thank them for their community spirit and support of the arts.
Spring Gallery Hours: Tuesday through Saturday from 11-6
ABOUT THE ARTISTS
Victoria Brace
Raised and educated in Russia, Victoria Brace relocated to Spokane in the 1990s and has been sharing her craft with audiences in this region since. She is well-known for her hauntingly beautiful local landscapes and cityscapes, figurative and still life works.
Brace's figurative pieces are drawn from an internal point of reference, rather than directly from a model. She studies the faces of people she meets and then recaptures their essence from memory. Her formal education at the Moscow College of Art gives her a strong foundation from which to begin her improvisational process. "I start a painting with a visual story in mind. It's mostly the mood, the movement, the play of colors and shapes that I want to capture on canvas, usually no narrative at this point. Most of my paintings are layers of images, where things get added or painted out. In short, I make things up, and then I paint them so they feel real. Memories, observations, thoughts and experiences combine in my mind, and the images form."
Brace's cityscapes of Spokane are treated like portraits. She believes cities have personalities, distinctive moods, structure, and rhythm. "After a long period of time, a place develops its own character; there are enough layers of history, events, different aesthetics accumulated, so a city becomes similar to a living organism," she says.
The Art Spirit Gallery has proudly shown Brace's work since 2008.
Lindsey Meyers Carroll
Lindsey Meyers Carroll of Helena, Montana is a contemporary artist working in magic realism through large-scale charcoal drawings. She received her BA in Fine Arts and Spanish Literature from the University of Montana in 2008. She has been part of various regional exhibitions and is a recipient of the Grants to Artist Award from the Myrna Loy Center.
Teeming with humor and mystery, Carroll's drawings meld disparate subject matter in unexpected and intriguing ways. Each piece becomes a vehicle for inquiry, examination, and discovery. "As a contemporary of this culture, my work reflects its influence by employing realism, portraiture, and animal life to which I often infuse a sense of the imaginary or surreal. A slight shift of the real toward the unreal turns an otherwise plausible and familiar scene into a vehicle for fantasy, daydream, and often memory, all of which act as metaphors for not just what is seen but how it is experienced."
The Art Spirit Gallery is proud to feature Carroll's work in this upcoming show. "We are thrilled to share Lindsey's work with our gallery community," states gallery owner Blair Williams, who introduced Carroll's work to the late Steve Gibbs in 2015. "The surrealism, movement, and detail in Lindsey's drawings captivate and amuse all viewers. Each piece tells a story, one that invites contemplation and simply makes you smile."
Cary Weigand
Cary Weigand was born and raised in Hawaii, where she earned her BFA and MFA from the University of Hawaii. Her work has been published in Ceramics Technical, Combustus, and she was awarded one of Ceramics Monthly's Emerging Artists for 2011.
Since she first began showing at The Art Spirit Gallery, Weigand quickly gained a solid following. Her sculptures, rich with symbolic detail, depict spiritual traditions and mythologies from all over the world. Undeniably powerful, they reflect her personal philosophy that animals and humans share responsibility for safekeeping the earth.
The artist's process is completely intuitive. "When I am working, I let go of all results. In this way, I open the door to deeper intentions that are not personal, but from a greater and deeper ocean of mind. The process teaches me to look deeper than just the surface of the work."
To learn more about Weigand and her process, click here for an article in Combustus, an on-line arts and literary magazine.
The Art Spirit Gallery has proudly shown Weigand's work since 2011.