BIOGRAPHY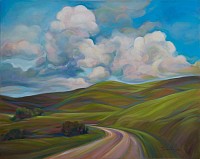 Louise Lamontagne's vividly realized oil paintings, with their simple, bold forms expressed in strong strokes and richly saturated colors, have earned her a significant place among contemporary Western artists.
Although known primarily for her landscape paintings, Louise has also explored the human figure in 2 and 3-dimensional form and paints non-objective subject matter in a variety of mediums including encaustic, an ancient form of painting with wax.
Lamontagne's work has been exhibited at galleries and museums throughout the Northwest, Rocky Mountain and New Englad states as well as having exhibited in Germany, Canada and New Zealand.
Winner of numerous other awards, her collectors include Seattle University, West One Bank, the City of Kent, WA and the Oki Foundation and the Missoula Art Museum. She participated in the "Montana Triennial" at MAM in 2012 had a solo show at MAM entitled "My Closet Collection" in 2013.
Raised in Manchester, NH, Louise began her college art education at the University of Bridgeport in CT. She continued her studies at the School of Visual Concepts in Seattle, WA and regularly attends professional artist workshops.
At her home and studio in St. Ignatius, MT, Louise pursues her passion in an atmosphere of solitude, concetration and unending inspiration.
The process of painting is a very person exploration. Although often externally initiated, I create to deepen my understanding of my subject, my medium of choice, and as a challenge to find new ways of expression.
With each new piece and each body of work I create there is always an exciting new lesson to be learned.
It is this process of discovery and the joyful act of moving my hands across a surface that sustains me as an artist. A bold brushstroke, a thin glaze of color or the manipulation of clay or wax mixed with passion and desire and I am taken away to that magical place where inspiration lives.